---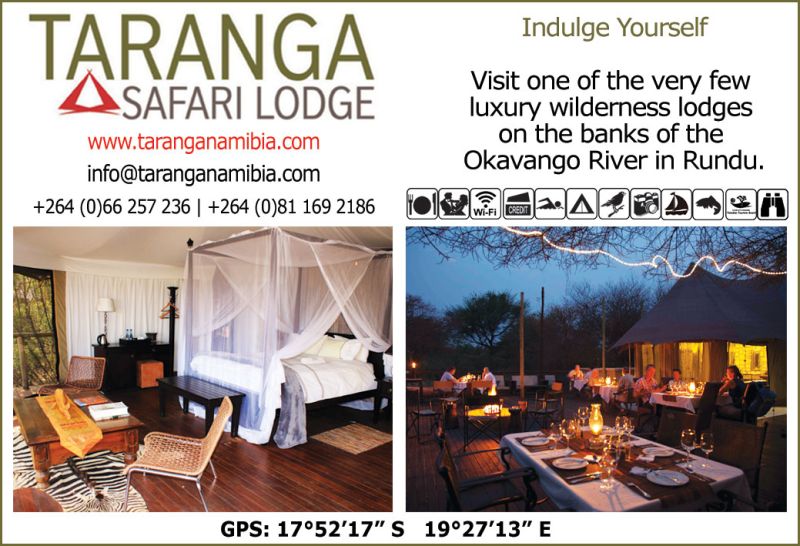 CONTACT:

CATEGORY:
Accommodation: Safari Lodge
Luxury Safari Lodge


PRICING:
prices on request



ZONE:
Zone 26: Okavango Rundu

---
Taranga Safari Lodge is one of a very few luxury bush camp lodges in the Rundu-Kavango region. Intimate with only 2 luxury and 6 classic open fronted luxury riverbank tented cottages, situated amongst tall riverine trees, guests are offered ample opportunity to take in the sights and sounds of the African bush with views across the river into the nearby flood plains and during season the lily covered wetlands.
The riverine forest provides a great opportunity to view a rich variety of birdlife including the African Jacana, Giant Kingfisher and on occasion the rare African Fish Eagle. The Okavango river which is home to crocodile and hippo is flowing from east to west past the lodge on its final journey towards the Okavango delta.
There are daily guided river safaris taking you out for an adventure; an early sunrise cruise through the rising early morning river mist or a late afternoon sundowner or fly fishing. You may plan to go on a bushwalk, traditional village tour or choose to celebrate the end of a lazy day by spending memorable time at night around the fire pit stargazing.
Everything at the lodge focuses on relaxation and enjoying the African wilderness at your own pace. The large wooden decks offer a private and idyllic location for those wishing to unwind. You'll find a swimming pool at the main deck to keep everyone cool or allow you to just relax and enjoy the African sun.

Halili Village, 35km West of Rundu on the Okavango River.


Send a query via WhatsApp, then Taranga Safari Lodge can reply directly to your device.
Your message has been sent.
Copyright: © Where to Stay.
No parts of this website may be reproduced, stored in any retrieval system or transmitted in any form or by any means without the express, written
permission of the publisher. Extreme care has gone into supplying accurate information, however, no liability can be accepted by Where to Stay for any
errors or omissions that may have occurred.
Tel: + 264 81 886 5788
info@wheretostay.na